TUCer team has won 5 trophies in 9 years and continues to establish that is among the best teams in Europe! Technical University of Crete is continuously supporting the team, which remains the only Greek participant in the Urban Concept category.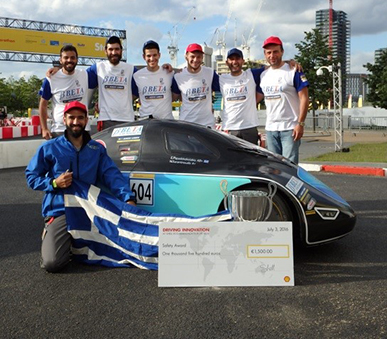 Our last trophy has been won in 2016. Once again, 3rd time in team's history, TUCer team won the Safety Award. Our team presented this year an advanced vehicle aiming to excel in a brand new and extremely demanding route. Significant improvements were made in the vehicle's chasis, which has been re-designed in order to have better response and be safer in race conditions. Also, new energy management systems, that will favor fuel consumption, were installed together with driver's safety devices, one of our greatest targets this year. Specifically, new aerodynamic components have been installed, the powertrain has been massively improved and advanced car and driver status telemetry systems, with live data transferring, have been integrated. Our persistence in car-driver safety, together with team's organisation regarding safety, impressed the judges, awarding us the Safety Award once again.



In 2015 and 2014 our team participated implementing new innovations in energy management and powertrain and achieved every year to improve fuel consumption and to remain in the 4th place. In 2013 at Rotterdam, Holland, team has won another 2 trophies: a) The Shell Student Energy Challenge and b) People's Choice Award. For this trophies, 183 teams presented their research regarding the future energy needs of our planet in 2050. TUCer ranked 1st, above universities such as Oxford and Delft, and won a VIP visit to Ferrari's factory in Modena, Italy. In 2012, again in Rotterdam, a brand new vehicle had been presented (ER 12) with reduced weight and aerodynamic drag, ranking 4th in the Urban Concept category.





Two years earlier, in Shell Eco Marathon 2011 in Eurospeedway in Lausitz, Geramny, TUCer impressed once again and won for a second consecutive time the Safety Award, with ER11 vehicle. Also, the 430 km/lt brought it in the 8th place of the Urban Concept category.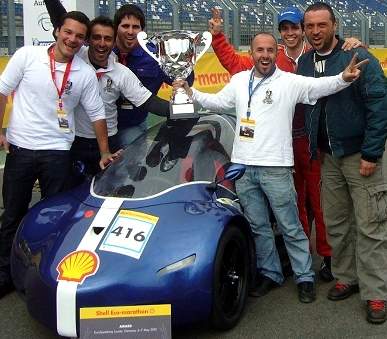 TUCer team won its first trophy, in 2010 at Eurospeedway in Lausitz, Germany. In Shell Eco Marathon 2010, team won the ADAC Safety Award, between 224 institutions, and also achieved a 373 km/lt fuel consumption. This performance was achieved from ER 10 vehicle.